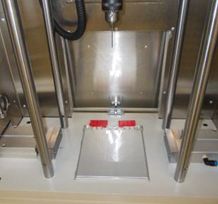 Testing
safety tests
New batteries and cells are steadily increasing in energy density. It is therefore important to know the possible hazards and to minimize the risk potential.
We offer you the possibility to subject your lithium-ion storage devices from single cells to finished modules as well as other mechanical components to all important safety tests in a separate area, according to standards and norms. In addition to high-frequency recording of measurement data, we also offer video recording at up to 4K or 400 fps (@ 1440 x 1024 pixels) to ensure optimal analysis of the test. IR recording using a thermal imaging camera is also available as an option. Our press features a nominal force of 800kN and a punch speed between 0 and 80mm/s.
We offer among others the following electrical as well as mechanical safety tests for your products:
Nail test – Nail Penetration
Thermal Propagation
Vacuum
Crush
Vibration
Shock
Overcharge
Over-discharge – Over-discharge
Short Circuit
Lithium Plating
Cycling after overcharge
Overheating – Thermal ramp
Temperature cycles – Temperature cycles
Temperature shock – Thermal shock
For special requirements, our experts are available to develop a customized test procedure for you and with you.